MEET THE TEAM: Shaun Candon, Executive Chef, Banquet Operations, Food & Beverage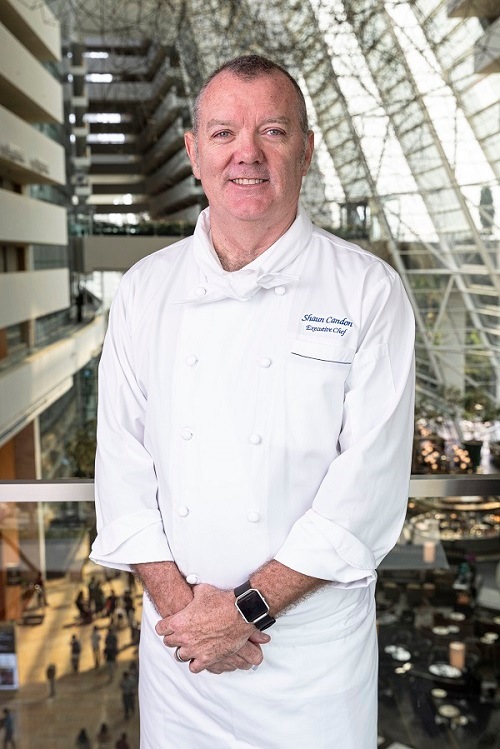 1. Tell us more about yourself and your role at Marina Bay Sands
I've been working in the food and beverage industry for the last 36 years, and am privileged to have the opportunity of working with the Banquet Operations team here at Marina Bay Sands since 2018. I have extensive international culinary experience in the management of food and beverage operations for four-star and five-star hotels and cruise lines worldwide.
My first year at Marina Bay Sands has been a fulfilling one. A solid year on board allowed me to understand the local banquet business much better and find out what our long-standing clients truly like about our services. A key understanding of these requirements allows us to reinvent the wheel on presenting an excellent offering to them. Here at the MICE Banquets, we strive to give our clients a well-rounded offering. We meet clients' needs for food to be healthy, sustainable and fulfil other requirements such as serving Halal cuisine. Ultimately, driving the success of any event is a tightly-knit, highly capable and creative group of talented individuals from the Banquet Operations team. Desiring to push the boundaries of what can be achieved is the reason why we're able to deliver memorable events for our clients.
2. Were there any unique client requests your team had to handle? How did Marina Bay Sands deliver an exceptional culinary experience in those instances? How have we been innovating in terms of our food offerings?
Every client request we receive is a unique one. It doesn't matter whether it's a daily package menu, a wedding banquet menu or a customised event menu. To leave a lasting impression on our clients, my team constantly thinks out of the box to present customised menus that reflect the event theme. The resident Banquet team has a solid working rapport with one another, united in the common goal of going above and beyond to deliver exceptional events for our clients.
During Ecosperity Week 2019 (4 June – 7 June), we worked closely with Temasek to create a menu that aligned with Ecosperity's core focus on sustainability. The highlight of the event was when we used Impossible Foods' plant-based meat to create a plant-based version of the local glutinous rice delicacy, or rice dumpling. This was created by our Chinese banquet team, who worked hard to perfect the taste in order to maintain the authenticity of this time-honoured local snack. To offer options for delegates who require vegan and vegetarian options, we ensured that the event's menu contained local greens and vegetables, beetroot and turmeric served in its raw form for maximum health benefits. In addition, to showcase Temasek's innovations during the event, we served 'Temasek Rice', a hardy breed of rice able to withstand extremely dry and wet weather for extended periods of time. Upon experimentation, the team realised that the rice took longer to cook and that more water was required during the cooking process. With this knowledge, the team allocated sufficient time to cook the rice fully.
3. How have client expectations and requests changed over the years?
Clients increasingly want to 'wow' their guests by finding unique ways to present the food served at their events. They display great interest in playful, interactive live stations that truly showcase their event in a special way. During the VIP launch of the Wonderland exhibition at ArtScience Museum in April this year, guests were treated to a chocolatey spectacle to behold, thanks to the creativity of our pastry team. An 'Alice in Wonderland themed' chocolate sculpture made out of chocolate was specially created for the event to celebrate Lewis Caroll's timeless classic.
4. What kind of trends do you see in how food plays a part in enhancing the overall delegate experience?
More clients take sustainability and food waste concerns into consideration when they plan their events with us. For instance, they desire to know where their food is sourced from, and want to track the amount of food waste generated from the kitchen as well as from guest plates. We are working alongside Singaporean companies that build machines to weigh, identify and dispose waste, enabling us to track where food waste is coming from. In the future, we'll be able to provide our clients with a more accurate assessment of their food waste. To minimise food wastage, we have ongoing partnerships with charities like Food from the Heart and The Food Bank Singapore to donate excess unconsumed food from our MICE events. When doing so, we ensure that all food to be donated is fresh and safe for consumption by blast chilling food inside our industrial-grade blast chiller.