Case Study: Risqué (and safe) business at Sands Expo and Convention Centre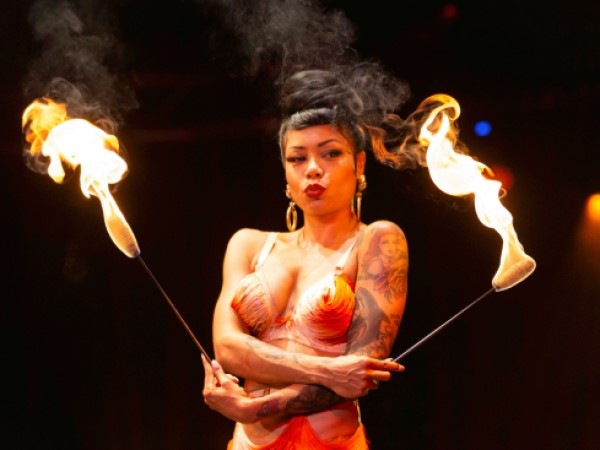 Heather Holiday during her fire-breathing act
A showstopping visual feast of fire-breathing, sword-swallowing, and stunning acrobatic acts led by charismatic talents, La Clique made its highly anticipated Singapore debut at Sands Expo and Convention Centre on 18 September.
This marked the first live theatrical performance featuring an international cast, to return to Marina Bay Sands since February 2020.
After performing to a worldwide audience for over 15 years, the Olivier award-winning cabaret show still found ways to jazz things up despite the pandemic. The show transformed Hall C of Sands Expo and Convention Centre into a Spiegeltent, with an immersive 360-degree space that allowed for a more intimate experience. Each placement of the paired seating was designed to ensure that all 402 guests at every show could view all the onstage action. Audiences were close to the action, with the performers putting up their thrilling acts on a three-metre-wide stage.
As audiences spent a night away in awe of all the hypnotising acrobatic routines, Marina Bay Sands, together with the organisers, spared no effort in taking additional Safe Management Measures (SMM) to ensure a safe, live theatrical experience for all. The entire planning of the SMMs spanned several months, with the teams continually reviewing the plans so that they were aligned with evolving regulations.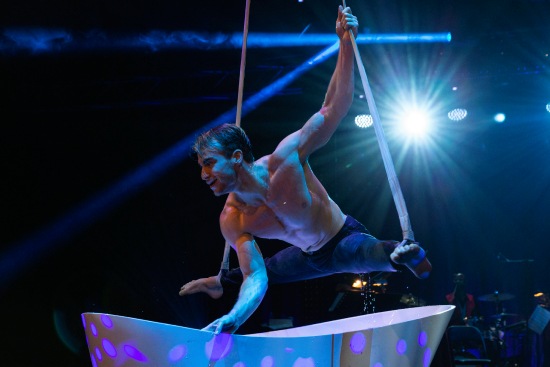 Oscar Kaufmann performing his Bath Boy routine
Safe provision of complimentary drinks at the VIP reception area
Being the first live event to return to Sands Expo and Convention Centre, La Clique had F&B operations resumed on a smaller yet safer scale.
As part of La Clique's VIP ticket package, a complimentary drink was provided for each ticketholder 45 minutes before the commencement of every show. With a maximum capacity of 62 guests at the VIP reception area, the designated spot was also separated from the performance area with each table accommodating two guests.
To establish strict compliance of the F&B SMM, guests were ushered individually to their allocated tables to avoid intermingling. Roving safe distancing ambassadors (SDAs) were also deployed to ensure the guests wore masks before drinks were served and after they had finished their beverages.
Safe interactions at the backstage:
Much emphasis was placed on ensuring that all performers and crew members were safe throughout the entire performance period.
All singers who were unmasked on stage and band players who played wind/brass instruments had to undergo daily pre-event testing on show days. Only a maximum of 50 performers and crew were allowed to be on stage and backstage at all times. To avoid intermingling between the public and the performers, the crew was assigned to enter the venue 90 minutes before each show. A strict sanitisation regime was also put in place throughout show time and at the end of each day's performance to ensure that all technical equipment, such as camera, lights, grip and communication devices were thoroughly cleaned.
"While there were some logistic challenges leading up to the opening night, we knew we were in the good hands of Marina Bay Sands with their advice and expertise on implementing the SMMs throughout the venue. Everything went smoothly over the eight weeks and we were just thrilled to be able bring smiles and laughter beneath our audiences' masks," added Milan Rokic, CEO of Sliding Doors Entertainment and organiser of La Clique.
Even with the necessary social distancing measures put in place, the production turned out to be an intimate evening at a live show. The return of a live event like La Clique brought some needed respite from the ongoing pandemic for its audiences. It also signified a milestone towards restoring the confidence of audiences and venue providers as the nation transitions into a COVID-19 endemic phase.