Step into an interactive digital experience
Explore beyond the boundaries of physical space in our new attraction. Be amazed as shoals of fish gather in the ocean beneath you while crystals light up above, or paint your own calligraphic art with your footsteps as flowers blossom to life.
Opening Hours:
Sun – Thu & Public Holidays: 11AM – 9PM
Fri, Sat & Eve of Public Holidays: 11AM – 10PM
Ticket Price:
---
Located beside Rasapura Masters (Foodcourt)

Interact with the Digital Light Canvas!
Step 1: Head down to the Digital Light Canvas at The Shoppes, and connect to Wifi: "Digital Light Canvas"
Step 2: You'll be redirected to the Digital Light Canvas landing page, click "Crystal Fireworks"
Step 3: Select 'Start' and choose your preferred Crystal Fireworks
Step 4: Swipe the Crystal Fireworks towards our light sculpture and watch it appear!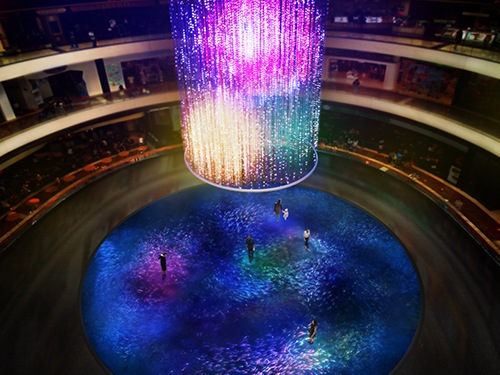 ---
Personalise A Message For Your Loved One
Priced at S$50
As an extension of Strokes of Life, express your wishes and watch them appear on the LED floor in beautiful calligraphy, along with a burst of fireworks in the light sculpture.
Visit the Retail Concierge Counter near Digital Light Canvas and choose from 'Happy Anniversary', 'Will You Marry Me?' or 'Happy Birthday' to dedicate to your loved one.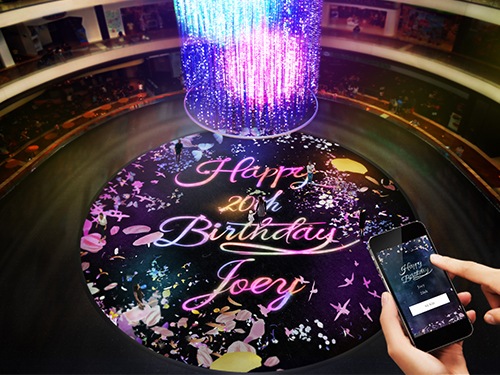 ---

The First-Of-Its-Kind Multi-Sensory Digital Installation
It took two years in the making to create this first-of-its-kind installation combining two technologies – a 4D vision light sculpture with an LED floor

The Digital Light Canvas is 20-metres high and the light sculpture alone is 14-metres tall

The light sculpture measures 7-metres in diameter and consists of 401,280 LEDs (more than twice that of our Crystal Universe exhibit in Future World: Where Art Meets Science)

The LED floor has over 7.7 million individually controlled Surface Mounted Diodes (SMD) LEDs

Our LEDS are energy efficient, yet able to produce an output 3x brighter than normal LEDs to enhance its visibility throughout the day

Guests who visit during special seasons can enjoy special elements such as fireworks and festive ornaments on the installation
---
---